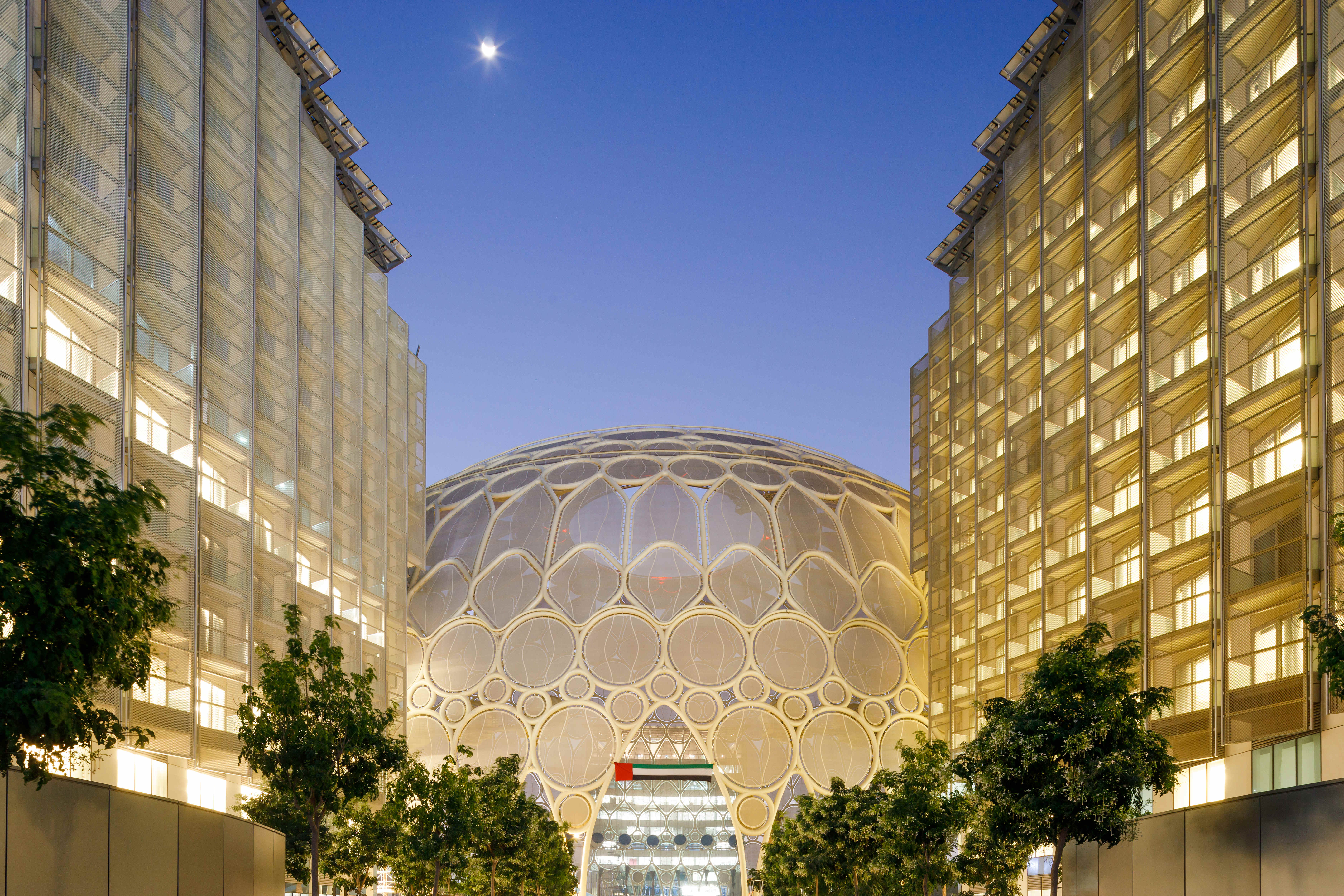 Expo 2020 Dubai is the first World Expo to be held in the Middle East, Africa and South Asia (MEASA) region, hosted in a city of the future, in one of the world's most inclusive, ambitious and future-focused nations, in the year of the UAE's Golden Jubilee.
'Connecting Minds, Creating the Future' is our theme and our purpose, and is based on the belief that innovation and progress are the result of people and ideas coming together in inspiring new ways. Our three subthemes are areas we see as essential to building a better world for everyone:
Opportunity: Unlocking the potential for individuals and communities to shape the future
Mobility: Creating more efficient and effective movement of people, goods and ideas, both physically and virtually
Sustainability: Respecting and living in balance with the world we inhabit to ensure a cleaner, safer, healthier future for all
Expo 2020 Dubai is the world in one place – a global experience dedicated to bringing together people, communities and nations to build bridges, inspire action and deliver real-life solutions to real-life challenges. A launch pad for broadening horizons and exchanging ideas, Expo is all about innovation, collaboration and inspiration, and is the UAE's commitment to building a cleaner, safer, healthier future for everyone.
In a spirit of optimism, Expo 2020 Dubai will gather more than 200 participants – including 191 countries, as well as multilateral organizations, businesses and educational establishments – for a visually striking and emotionally inspiring 182 days. Through Expo's Programme for People and Planet, participants will explore solutions to fundamental global challenges such as climate change, equal access to education and healthcare, and bridging the digital divide.
Visitors from all over the planet are invited to join the making of a new world as they explore new frontiers, embrace the opportunities of tomorrow and discover life-changing innovations that can have meaningful, positive impacts on our planet and its people.
Expo Programmes
Expo Live, Expo's global innovation and partnership programme is backing 140 projects from 76 countries, each offering innovative solutions to pressing challenges, helping to improve people's lives or preserve the planet
Expo's Global Best Practice Programme spotlights 50 projects already providing impactful, sustainable solutions to some of our biggest challenges, with a commitment to expanding them across the globe
The Expo Education Programme is inviting students from high schools and UAE and international universities to join specially curated tours, gain hands-on skills, and shape their future careers by connecting with peers, industry leaders and global experts
The Expo School Programme is inspiring the younger generation by engaging with UAE schools and educators. During Expo 2020 Dubai it will offer students a once-in-a-lifetime learning experience via four bespoke school tours
A total of 30,000 Expo 2020 Dubai Volunteers, a diverse and inclusive mix of UAE residents and expats from a range of nationalities and backgrounds, will be the welcoming 'face of Expo 2020 Dubai Dubai', reflecting UAE's inclusive and hospitable spirit
Expo's World Majlis will bring global thought-leaders together for the conversations that matter, in the traditional Emirati majlis setting.
The UAE has shown the world what is possible through its remarkable transformation and progress. Expo 2020 Dubai, coinciding with the UAE's 50th anniversary in 2021, engages people in this journey, inspires the next generation, and, together, sparks innovations that will kick-start another 50 years of purposeful progress, contributing to the nation's continued prosperity and enabling growth in the region and beyond. More than 80 per cent of Expo's infrastructure will live on in the future city of District 2020 – a model global community for the future that will use state-of-the-art innovation, science and sustainability to create a cleaner, safer, healthier environment to live and work. Expo 2020 Dubai is committed to building a meaningful, measurable long-term legacy that will set a benchmark for future World Expos.

To learn more about Expo 2020 Dubai, please visit the following website: https://www.expo2020dubai.com/en